A. For quick copy / paste manual import email addresses must be placed one under another, as in the example below:
john@someemail.com, John Doe
sharong@abcwidgets.com, Sharon Greiner
joeh@abcwidgets.com, Joeh Greiner
B. For import from file
File format must be CSV / TSV or XLS and it should respect the following requirements:
Each email address will be placed on a new row.
The file size mustn't be larger than 10 MB. If it surpasses the maximum allowed, please divide it into smaller files and upload them one by one.
If the email list contains special characters (diacritics), make sure that your file is saved as UTF-8 format before uploading it.
In order to save a .xls file as a UTF-8, follow these steps: Save as > Tools > Web options > Encoding > Unicode (UTF-8).
In NewsMAN platform, from File encoding section, choose UTF-8, if necessary: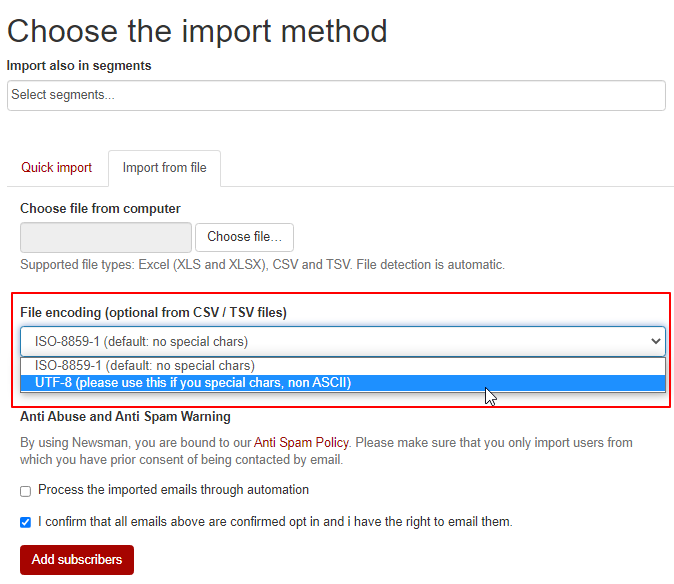 Below you may see how your import file should look like (email column is compulsory):

The variables/tags (or the header column: email, fullname, birthdate) can be used for segmentation or within the content of the newsletter. In order to be able to do this, firstly, from Use as section > click the variable > and choose its Type as it follows:
for numbers you will choose: Number
for dates: Date
for rows of characters (e.g.: email, fullname, city etc): String
In the next image, it was created a new association for birthdate and is was set Date as its Type: